WEBSITE & ONLINE SYSTEM
MORE CONTROL | SECURE |RESPONSIVE | SIMPLE
MEMBERS AREA
The new online payment platform provides additional security and services for customers. To enable Hills Basketball Association to update the platform and security, the login method has now been introduced for both registration, game fees and team entries.
EVERY MEMBER (player/manager/coach) HAS A UNIQUE USERNAME & PASSWORD. 
At the top of the website you'll see a MEMBERS AREA (printed in orange). This will be your pathway to your individual dashboard to pay registration, game fees and team entries.
Players will be required to know their username & password to access online payments. 
TROUBLESHOOT 
Forgotten your username? Click here to request. Please note your email address must match our database to receive notifications.

Usernames are case sensitive.

Forgotten your password? Click here to create/reset.
If you don't receive username or password notification within 2 minutes please check Spam or Junk mail and drag to inbox.

Please remember your email address must match our database to receive notifications.
Additional features will be added over the next 6 months!
Still need assistance? Please email accounts@hillshornets.com.au 
​Once logged in you'll see your personal dashboard. Your registration expiry date will appear under REGISTRATION tab and COURT FEES can be paid under INVOICES. Your Manager will advise your portion to pay (please note this is a team invoice, you are only required to pay your portion).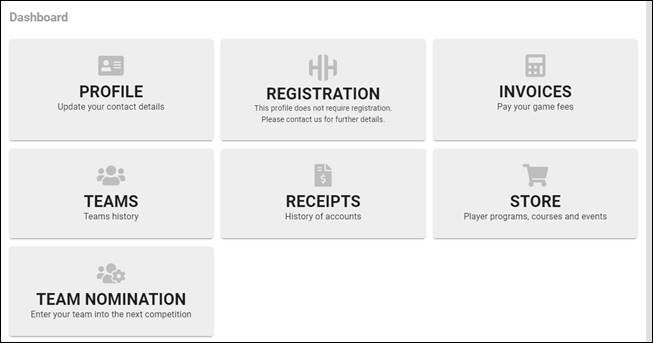 REGISTRATION
Login to Members Area and your personal DASHBOARD
Check information on profile is up-to-date.

If your profile is MISSING INFORMATION, you need to complete before registering.

Your registration expiry date is provided on the REGISTRATION BOX. 
Please note you can not AFFILIATE online.
Registrations are Active Kids Vouchers (AKV) eligible.
Active Kids Vouchers (AKV) – If you experience any issues with your AKV please check:
your profile to see that your name and date of birth matches Services NSW. If different contact competitions@hillshornets.com.au

you've entered 16 digits for Active Kids Voucher

you've entered dd/mm (pin number) for the person named in the Active Kids Voucher

. 
Covid-19 – Basketball NSW & Hills Basketball are providing a discount of $15 to players re-registering who were impacted by the Covid-19 shutdown. The one-off reduction will be applied at checkout when renewing.
GAME FEE INVOICE
Login to Members Area (as provided above).
Team Managers will receive the invoice for court fees and advise players of their individual portion.

Players login to their individual dashboard to pay portion.

Under INVOICE (Pay your game fees or other invoices) TAB on dashboard.

Click VIEW on the team invoice.

Click ADD PAYMENT at the top of the invoice.

Enter AMOUNT TO BE PAID.

Press CONTINUE

Add ACTIVE KIDS VOUCHER if required. Enter 16 digit number and pin (dd/mm of birth date) and press VALIDATE.

Then press CONTINUE.

Enter credit card details if you are required to pay more than the AKV or you do not have an AKV.

Press PAY INVOICE to complete transaction.
Please note 
Managers can pay portion or full invoice if collecting fees on team (but will not be able to use AKVs in this option).

Receipt will show on RECEIPTS tab when they've paid.
Court Fee invoices are Active Kids Vouchers (AKV) eligible.
Need assistance please contact accounts@hillshornets.com.au