REFEREES
HILLS BASKETBALL ASSOCIATION
Hills Basketball Association provides an award winning Referee Program. Qualified officials service both local competition, local school competitions and our representative program. The program has won the NSW Referee Program of the Year Award in 2008, 2009, 2010, 2014, 2015, 2016, 2017 & 2018.
To ensure Hills Basketball Association continues to produce both outstanding officials and program, the guidelines attached have been incorporated into the program to provide structure and consistency.
TO START REFEREEING book into the next available Community Referee Course or give us a call on 9894-8944 (ext 4).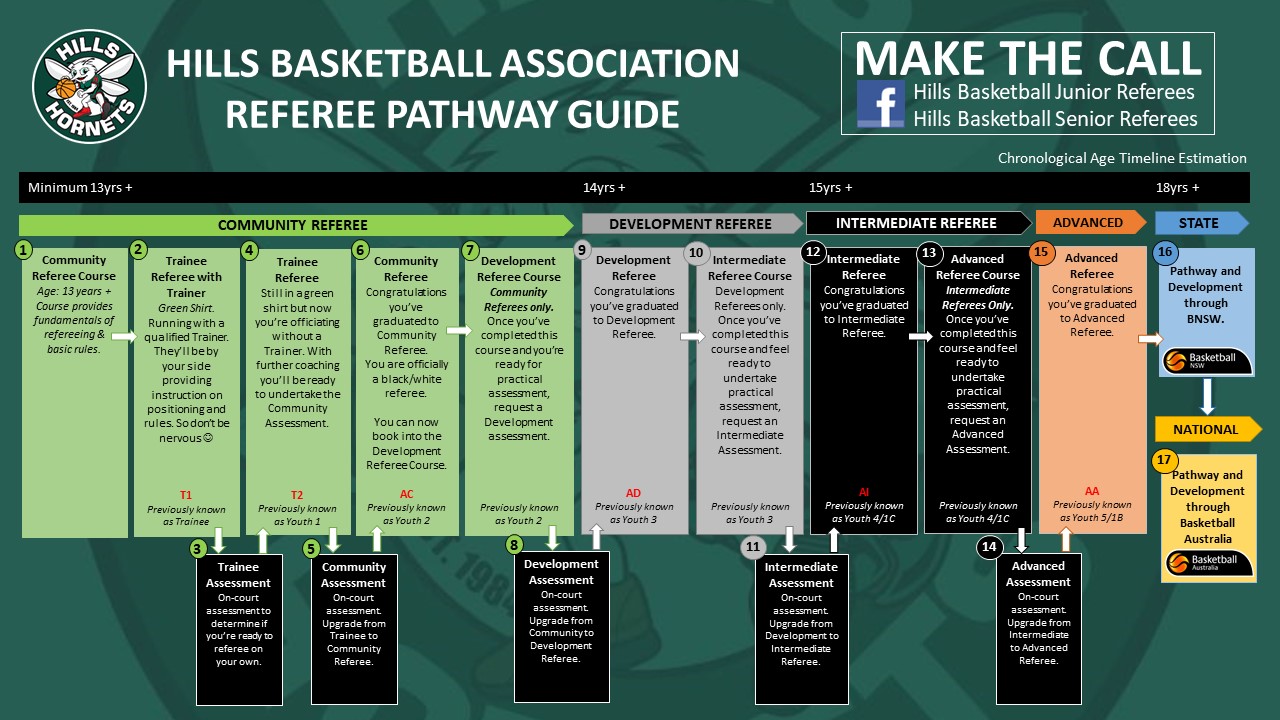 Trainee with Trainer T1

 $6.00

Running with a qualified Trainer

Trainee

T2

$7.00

Without Trainer

Association Community

AC

 $8.00

 
Association Development

AD

$11.00

 
Association Intermediate

AI

$15.00

 
Association Advanced

AA

$16.00

 
State Development

SD

$20.00

Basketball NSW Accreditation

State

S

 $23.00

Basketball NSW Accreditation

National Development

ND

$26.00

Basketball Australia Accreditation

National

N

$30.00

Basketball Australia Accreditation

FIBA FIBA

 $35.00

FIBA
FREQUENTLY ASKED QUESTIONS
Who do I see for injury or an on-court issue?
karen
2019-08-21T17:10:29+10:00
Please approach a Hills Basketball Supervisor, wearing a red jacket or polo with 'Supervisor' on the back. If you can't locate staff member on floor, please go to Reception. Ice is available from the Supervisor or Reception.
COMING EVENTS
COMMUNITY REFEREE COURSE The Community Referee Course covers the basic fundamentals of refereeing, and is suited for school teachers, parents or [...]
INTERMEDIATE REFEREE COURSE The Intermediate Referee Course is for Development Qualified referees only.After gaining experience as a Development referee, this course [...]