2021 HILLS HORNETS HOME GAME FIXTURE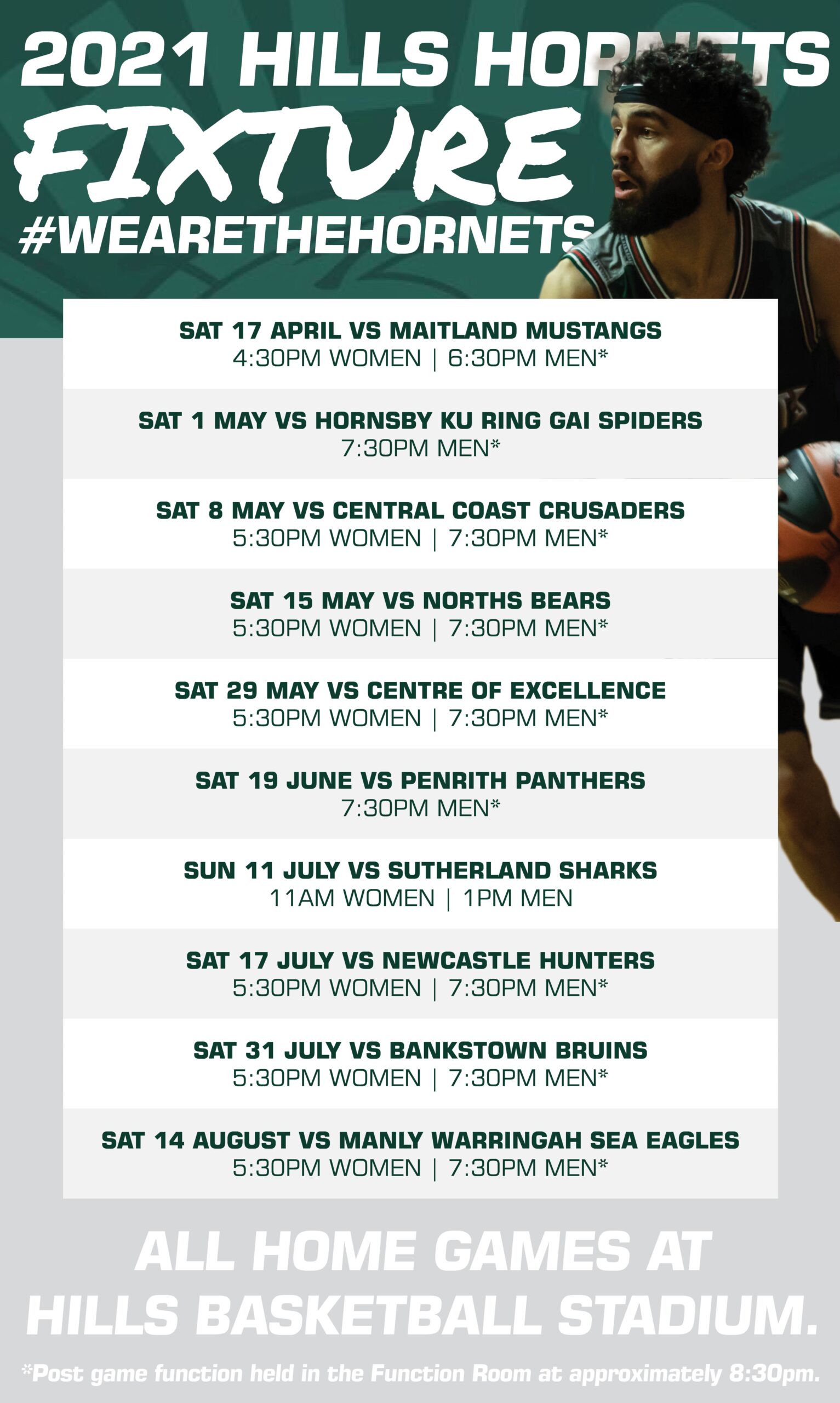 SEASON TICKETS INFORMATION
Season Ticket Cost:
Adult $45 | Child $30 (U18yrs)
Family $120 (2 Adult + 2 Children)
To ensure we obtain home court advantage we are looking to fill THE HIVE with Hornets supporters. Season ticket holder perks include:
– choice of a Hornets Socks or Beanie (valued at $20) per person
– allocated area for every Hornets Waratah game (Court 1) at the HIVE (55 games)
– allocated area for Hornets Waratah playoff games (Court 1) held at the HIVE
– entry to all Blue Hornets representative games held at the HIVE
– entry to all other (junior & senior) representative games held at the HIVE
– entry to exclusive Saturday night after game events (10)
Additional tickets can be purchased at the venue prior to each game. Please note they are general admission tickets & the benefits listed above are not included.
$5 Adult / $3 Child / $15 Family (2 Adults & 2 Children)
Get behind our HORNETS WARATAH LEAGUE teams in 2021. Great atmosphere, entertainment and perfect setting to watch the pinnacle of our representative program.
To ensure we obtain home court advantage we are looking to fill THE HIVE with Hornets supporters. Season ticket holder perks include:
– choice of a Hornets Socks or Beanie (valued at $20) per person
– allocated area for every Hornets Waratah game at the HIVE (55 games)
– allocated area for Hornets Waratah playoff games (Court 1) held at the HIVE
– entry to all Blue Hornets representative games held at the HIVE
– entry to all other (junior & senior) representative games held at the HIVE
– entry to exclusive Saturday night after game events (10)
Season Ticket Cost:
Adult $45 | Child $30 (U18yrs) |Family $120 (2 Adult + 2 Children)
If you would like further information regarding the 2021 Waratah season please contact Christie Graham on 9894-8944 (ext 3) or email christie@hillshornets.com.au