URGENT

COVID-19 UPDATE | RESTRICTIONS 24/08/21
PLEASE NOTE ALL STAFF ARE WORKING FROM HOME. PLEASE EMAIL DIRECTLY & THEY WILL RESPOND AS SOON AS POSSIBLE. CLICK HERE TO view email details.
COVID-19 UPDATE 24/08/21
RESPONSE TO LATEST COVID-19 ANNOUNCEMENT BY NSW PREMIER
Following the NSW Government announcement of the extension of the stay at home order, all Hills Basketball Association venues will remain closed with all activities suspended until 12:01am, Friday 1 October 2021.
We hope our Hills Hornets community is remaining safe at home, and are keeping up their basketball skills for when we return to the HIVE.
Rollovers, refunds, reschedules etc, will be communicated directly with participants & team managers. 
PLEASE NOTE staff are working from home, please click here to obtain email details.
Please view the latest NSW Government COVID-19 information here.
Hills Basketball continues to liaise with the NSW Government and Basketball NSW and any changes will be notified ASAP.
Due to the recent announcement from the NSW Government, Hills Basketball has made the decision to cancel Term 3 programs including Hornets Academy Skills Sessions, Wheelchair Skills Sessions, Play&Train and Walking Basketball. With this announcement the options have now been edited for your Term 3 booking. If you have not submitted a form please do so ASAP.
Term 3 bookings will be either refunded, credited or rolled over into Term 4. 
Please contact the Development Manager, Danielle D'Morias (danielle@hillshornets.com.au) if you have any questions.
With the latest news from NSW Government, it is with regret that HBA have had to hold local competition for a further 4 weeks. This means that as of today, the earliest HBA can resume competition has been moved to August 28.
Whilst this is not the news we all wanted to hear, it gives us time to rethink the format of our interrupted Winter 2021 season. Given the unpredictable environment, the best course forward is to remove finals from the equation and simply play out the remaining weeks as round games. Getting everyone back on the courts with friends as soon as possible in a safe environment is the priority for HBA.
All draws will be amended shortly to reflect round games for the weeks of 5/9 and 12/9. Any game scheduled to be played the week of 28/8 to 4/9, remains unchanged. Please ensure all team members are aware of these changes.
As per other seasons, all credits/forfeits will be issued at the end of the season. Teams entering our Summer 21/22 season (Oct-Mar) will have credits applied to their next invoice or if the team is not participating the Team Manager will be required to lodge a payment request form through the Competition Department.
Please contact the Competitions Manager, Kylie Garnon (competitions@hillshornets.com.au) if you have any questions.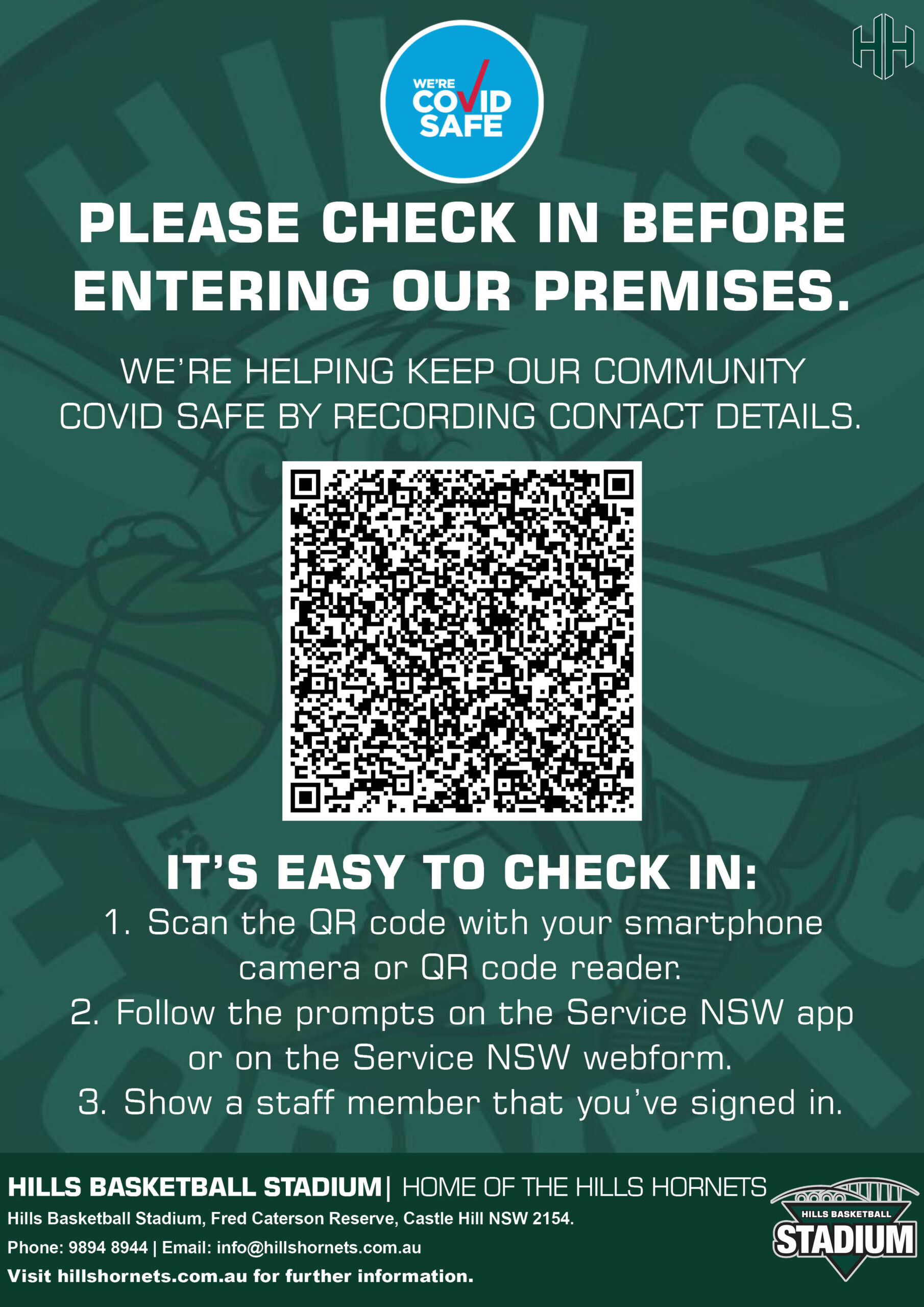 General
If you are unwell you MUST stay at home.

A list of current Covid hotspots can be found here https://www.nsw.gov.au/covid-19/latest-news-and-updates If you have visited a hotspot you should follow NSW Health directions and MUST NOT enter Hills Basketball venues.

Even if the new rules permit attendance (see specific rules below), only come to the stadium if you absolutely must.

Anyone, including spectators, not pre-printed on an official roll call, roster or scoresheet must QR code on entry.

Anyone entering Hills Basketball venues must practice social distancing where possible.

Hills Basketball recommends the wearing of masks for people on scoretable or in situations where social distancing is not possible.

All patrons are encouraged to arrive as late as possible and leave promptly after their activity.

Patrons are requested not to sing, cheer or chant.

Carpooling with people from different households is discouraged.

Online payments are preferred. Please note, given staff are undertaking additional duties, payments at the counter are likely to result in delays for customers. Click here to learn more about our online payment system. 

No exit via front door.
Kiss and drop zone:
Kiss and drop strictly for drop off. No pickups.

Painted area 'No stopping zone' is now available as pedestrian pick up area.

Where applicable, team staff (coach, manager, scorer) are asked to take responsibility for children until collected by parents.

Parents and team staff to use common sense and discretion re. collection from waiting areas or walk to car.
If you are unwell you MUST stay at home. You should get a COVID-19 test and self-isolate until you receive a negative result AND you are feeling well again, whichever is the LATER.
The following link contains information from NSW Health regarding Covid-19 hotspots. If you have visited any of these locations, you should follow NSW Health directions and you MUST NOT enter Hills Basketball venues. 
NSW Health are providing an ongoing current list of COVID-19 case locations. This page is being regularly updated with locations across NSW and we recommend it is checked if you are concerned about locations which may be at risk of COVID-19 infections.
Responding to COVID-19 in Basketball
Hills Basketball is not in a position to provide medical advice. The following is for guidance only as the advice of health authorities can vary depending on individual circumstances.
For immediate advice:
National Coronavirus Health line on 1800 020 080 or  NSW COVID-19 Helpline on 13 77 88
Or refer to Health Direct Coronavirus website and NSW Health Coronavirus Self Isolation Guidelines & Information
For someone feeling unwell
If a player tests positive for COVID-19 please notify Hills Basketball Association on 02 9894-8944.
Close Contact
A close contact is someone who has been face to face for at least 15 minutes, or been in the same closed space for at least 2 hours, as someone who has tested positive for the COVID-19 when that person was infectious.
If you are a close contact of a person with confirmed COVID-19 infection in Australia, you need to be isolated for 14 days after you last saw that person. Home isolation applies to all close contacts, even if you are well. It is important to monitor your health and report any symptoms as early as possible.
Refer to:
Casual Contact
A casual contact is defined as someone who has had face-to-face contact for less than 15 minutes cumulative over the course of a week, or been in the same closed space for less than 2 hours, with a person with a COVID-19 infection while they were infectious. This may include healthcare workers, other patients, or visitors who were in the same closed healthcare space as a case, but for shorter periods than those required for a close contact. Other closed settings might include schools or offices.
If you are a casual contact, you do not need to self-isolate unless you have symptoms (although the close contact does). You should monitor for symptoms for 14 days after your last casual contact with the person with COVID-19. Refer to Casual Contacts Factsheet.
Further Information
National Coronavirus Helpline on 1800 020 080 (24-hour helpline)

Service NSW COVID-19 Helpline on 13 77 88

To speak to a Registered Nurse at NSW Healthline call 1800 022 222.

Further information is also available at

www.health.nsw.gov.au

and www.health.gov.au.