COVID-19 UPDATE | RESTRICTIONS
UPDATED 19/9/20
COMMENCING SATURDAY 19 SEPTEMBER 2020 FROM 5PM

HBA is pleased to advise that we have revised our spectator limits. While we are unfortunately still a long way from 'normal', we will be returning to 1 spectator per participant for all programs as of 5pm Saturday, 19 September. Most other measures will remain unchanged including the requirement for spectators to sign in via QR code or text message.
General
If you are unwell you MUST stay at home.

If you have visited Victoria or a NSW hotspot

https://www.nsw.gov.au/covid-19/latest-news-and-updates

 you should follow NSW Health directions and MUST NOT enter Hills Basketball venues.

Even if the new rules permit attendance (see specific rules below), only come to the stadium if you absolutely must.

Hills Basketball supports the NSW Govt recommendation to wear masks in public where social distancing is difficult. NB: The wearing of masks while playing is not recommended.

Anyone entering Hills Basketball venues must practice social distancing where possible.

Anyone not pre-printed on an official roll call or scoresheet must register on

My Guest List

.

All patrons are encouraged to arrive as late as possible and leave promptly after their activity.

Online payments are preferred. Please note, given staff are undertaking additional duties, payments at the counter are likely to result in delays for customers.

Click here

 to learn more about our online payment system. 

Exit Procedures

Court 1 & 2 – please exit via court 1 fire door

Court 3 & 4 – please exit via fire door near canteen.

Court 5 & 6 – please exit via cafe courtyard
Kiss and drop:
Kiss and drop strictly for drop off. No pickups.

Painted area 'No stopping zone' is now available as pedestrian pick up area.

Disabled parking out of action. Please call ahead if you need disabled parking facilities.

Team staff (coach, manager, scorer) are asked to take responsibility for children until collected by parents.

Parents and team staff to use common sense and discretion re. collection from waiting areas or walk to car.
Entry Point:
If you are comfortable for your child to walk from car, they will be met by HBA staff where they will be directed to their courts. On court children will be under the care of team staff.

Parents can drop kids to front door but will be required to line up.

Sanitise hands on entry.

Anyone permitted in the stadium, who is not pre-printed on scoresheet must register with MY GUEST LIST.
Exit Points:
Ct 1 & 2 exit via Ct 1 door. Waiting area adjacent to roller door.

Ct 3&4 exit via Fire Exit door near bike rack. Waiting area in front of industrial bins.

Ct 5&6 exit via courtyard. Waiting area in courtyard. *

Sanitise hands on exit.
Pickup:
Please park and walk to the exit point to collect your child.

DO NOT use the Kiss and drop to pickup children.
MY GUEST LIST CHECK-IN
MUST BE REQUESTED ON DAY OF ENTRY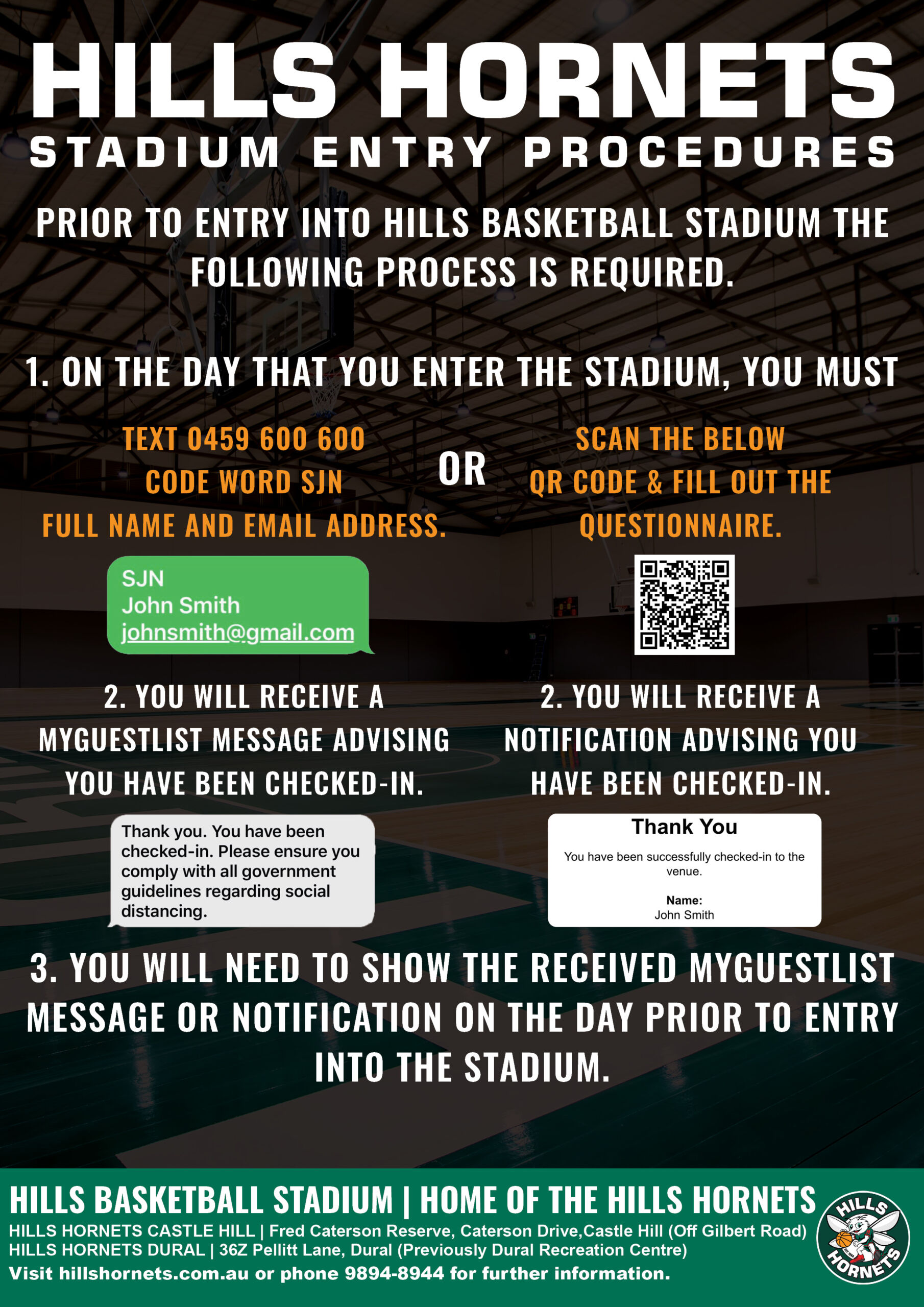 IMPORTANT – 2021 REP TRIAL PROCEDURES
Participants will be under the supervision of qualified HBA staff throughout the process. Drop off and pick up procedures are detailed below:
DROP OFF:
Parents are asked to drop their children at the 'kiss & drop' (no stopping zone) located at the front of the venue.

If required, children can be walked to the front door.

Children will be met by HBA Staff who will direct them to their court via the registration station.

Everyone attending the stadium is required to sanitise upon entry.
PICK UP:
Participants will exit the venue via the Exit doors located at the end of the foyer

Parents are asked to park in the carpark and walk around to the exit point (near the courtyard area) to collect their child.
If you are unwell you MUST stay at home. You should get a COVID-19 test and self-isolate until you receive a negative result AND you are feeling well again, whichever is the LATER.
The following link contains information from NSW Health regarding New South Wales Covid-19 hotspots. If you have visited any of these locations, or have visited Victoria in the past 14 days, you should follow NSW Health directions and you MUST NOT enter Hills Basketball venues. 
NSW Health are providing an ongoing current list of COVID-19 case locations. This page is being regularly updated with locations across NSW and we recommend it is checked if you are concerned about locations which may be at risk of COVID-19 infections.
Responding to COVID-19 in Basketball
Hills Basketball is not in a position to provide medical advice. The following is for guidance only as the advice of health authorities can vary depending on individual circumstances.
For immediate advice:
National Coronavirus Health line on 1800 020 080 or  NSW COVID-19 Helpline on 13 77 88
Or refer to Health Direct Coronavirus website and NSW Health Coronavirus Self Isolation Guidelines & Information
For someone feeling unwell
If a player tests positive for COVID-19 please notify Hills Basketball Association on 02 9894-8944.
Close Contact
A close contact is someone who has been face to face for at least 15 minutes, or been in the same closed space for at least 2 hours, as someone who has tested positive for the COVID-19 when that person was infectious.
If you are a close contact of a person with confirmed COVID-19 infection in Australia, you need to be isolated for 14 days after you last saw that person. Home isolation applies to all close contacts, even if you are well. It is important to monitor your health and report any symptoms as early as possible.
Refer to:
Casual Contact
A casual contact is defined as someone who has had face-to-face contact for less than 15 minutes cumulative over the course of a week, or been in the same closed space for less than 2 hours, with a person with a COVID-19 infection while they were infectious. This may include healthcare workers, other patients, or visitors who were in the same closed healthcare space as a case, but for shorter periods than those required for a close contact. Other closed settings might include schools or offices.
If you are a casual contact, you do not need to self-isolate unless you have symptoms (although the close contact does). You should monitor for symptoms for 14 days after your last casual contact with the person with COVID-19. Refer to Casual Contacts Factsheet.
Further Information
National Coronavirus Helpline on 1800 020 080 (24-hour helpline)

Service NSW COVID-19 Helpline on 13 77 88

To speak to a Registered Nurse at NSW Healthline call 1800 022 222.

Further information is also available at

www.health.nsw.gov.au

and www.health.gov.au.