Hills Basketball Association and Basketball NSW would like to extend an invitation to all local seniors to join us on Tuesday, 20 April from 10am-11.30am at the Hills Basketball Stadium for 
MEDIA RELEASE | BASKETBALL NSW
BNSW are proud to announce that Walking Basketball will be heavily showcased across Greater Sydney and Central Coast in this year's NSW Seniors Festival. The twelve day event will be one of the largest celebrations of seniors in the southern hemisphere running from the 13th to the 24th of April.
Walking Basketball is free and will be hosted by various councils and or basketball associations across next month that will give you the opportunity to reconnect with the community in a safe and supportive environment. 
Walking basketball is just that, basketball without running and jumping. Perfect exercise for those looking for a fun activity, that doesn't put pressure on joints or old injuries. Ideal for older players that wish to start getting active and or for the social aspect of team sport. It doesn't matter if you have never played basketball or a seasoned pro, everyone is welcome to join.
BNSW Community Growth Programs Administrator, Amy Nolan is excited to bring Walking Basketball to numerous locations during this year's festival. 
"It's wonderful seeing people be able to get on the court that aren't able to participate in the traditional game. For some it is injuries or age but for others it's simply they don't want to compete in a competition or have not played before and just want a social game at a lower pace they can't get elsewhere," said Nolan. 
"I have seen people from as young as 20 through to the ripe age of 90 participate in Walking Basketball sessions and wanting to come back for more due to the enjoyment and friendships they have gotten out of it."
"We are lucky enough to have a grant at the moment to increase participation, so are encouraging all associations to give Walking Basketball a go in their areas as well as willing to work with any clubs or other organisations/groups/individuals who want to be involved."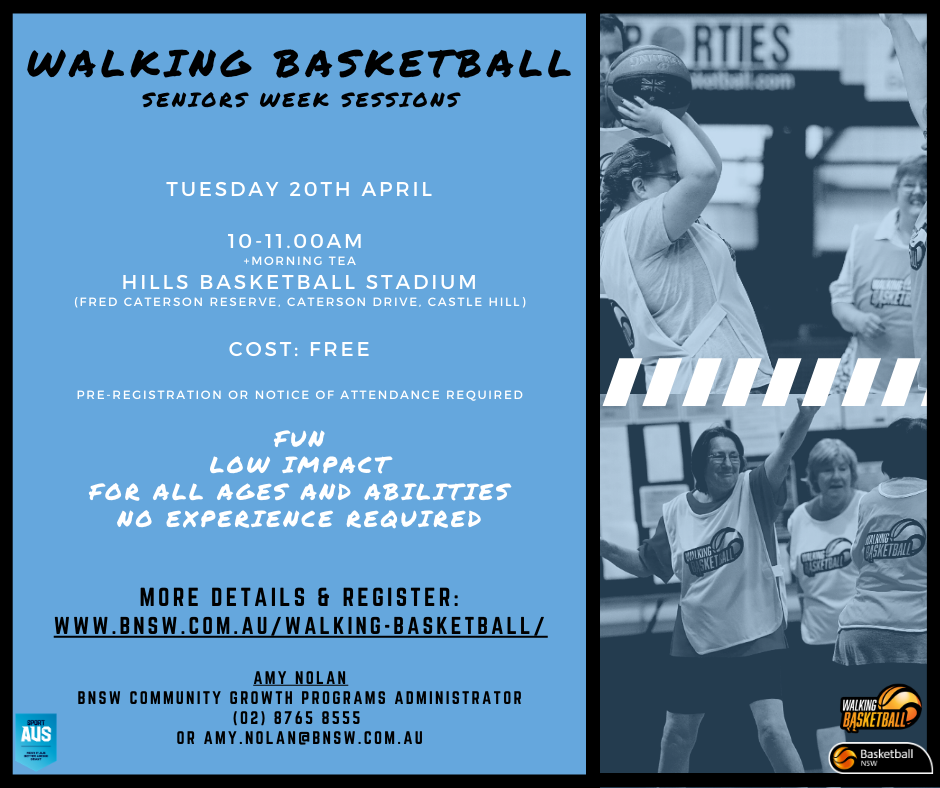 To learn more about regular WALKING BASKETBALL Programs at Hills Basketball Stadium, please click here.