HILLS HORNETS BOYS CLAIM GOLD AT 2019 UNDER-14 NATIONAL CLUB CHAMPIONSHIPS!
Hills Hornets Basketball Association U/14 Boys are officially the No 1 U/14 boys basketball team in Australia after winning a thrilling Grand Final at the Basketball Australia 2019 National Club Championships in Ballarat, Victoria over the weekend. The Hills Hornets boys, based in Castle Hill in NSW, claimed their Gold Medal in an edge of your seat thriller against the Hawthorn Magic, the #1-ranked Victorian team and pre-tournament favourites.
In a Grand Final where supporters noise drowned out coaches calls on the sidelines, the game went into overtime before the Hornets prevailed by 3 to win 52-49. 
It's been a phenomenal year for the Hornets team. This isn't the Hornets boys' first taste of success. Earlier this year they won the BNSW Waratah League Metro Championships and last month, took out the BNSW State Championships, making them the top U/14 team in NSW. Earlier in the year, four of the team members – Ashton Pahnel, Josh Hill, Andrei Honrada and Bailey Thom – also triumphed in the inaugural NBL 3×3 Big Hustle National Championships in the newly re-energised 3×3 basketball format, also held in Victoria.
You can watch the heart stopping and VERY loud Grand Final here: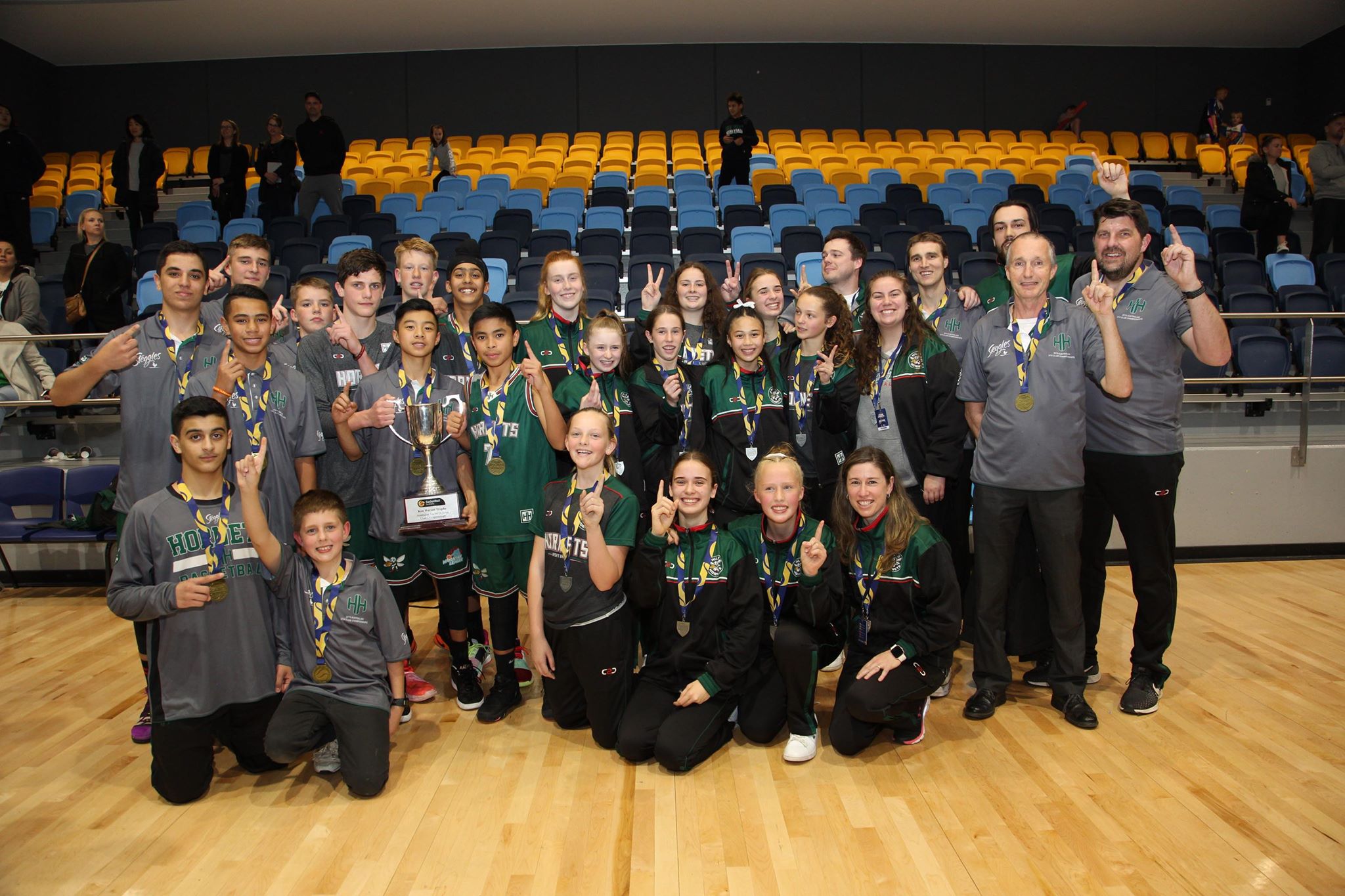 Coach Dave Hayman, who also represents the Hornets as a player in the top-level Waratah League Championship division, set the lofty goals of Sydney, State and National titles at the start of the year, even going so far as to send this list to his players in writing. Through his hard work and that of his staff and players, the mission was completed on sat night in Ballarat Dave always thought they were capable of taking out all three titles and said it all came down to trust between him and his players "I knew from the outset that we had some very talented players. We also had a couple of new players who developed during the year and contributed in a big way. We worked hard on getting the basics right because offense may win games but defence wins Championships. We also built a real trust between the players and coaching staff so that when we see what's going on during the game, we can give an instruction and they just inherently know what to do. My guys play for each other, there's no egos on this team, they all wanted to win, for the team and they have done it. We couldn't be more proud" he said.
Hills Hornets CEO, Steve Burke, added, "The Hornets have a proud history in this tournament (details below) and this team has upheld that tradition with aplomb. Most of these boys have been with us since infants school and we're delighted that our development programs, combined with their hard work, have put them in this position. Special thanks to Dave, Kerry and Zach as the coaching staff and Stu and Charlie as managers who have all played a huge part in the team's success."
The Under-14 National Club Championships are held each year with the top 24 boys' and girls' teams from all over Australia qualifying via state-based criteria. The tournament divides into two sections after the first round, with the top 12 teams playing for the Championship and the remaining 12 playing for the Shield (Division 2). The Hills Hornets U/14 Girls also qualified for the tournament, enjoying their own measure of success in taking out the Silver Medal in the Shield (Div 2). This was a fantastic result for the team with their 6' 2" (187cm) centre ruled out with injury before a game was played and considering they started in the 'pool of death', featuring both eventual Gold Medalists, Hawthorn and Bronze Medalists, Gold Coast. Congratulations to players Abbey Houseman, Anita Quigley, Chelsea Lewis, Chloe Garnon, Chloe Gething, Genevieve Sing, Holly Powell, Jolzyne Impreso, Madeline Lewis, Sophie Taggart, Coaches Zoe Burke, Paris Roditis and Rob Meyrick and Manager Kylie Garnon.