GIVING BACK
CEO SLEEPOUT & REFUGEE RATION CHALLENGE
Each year Hills Basketball supports a number of charities. Our Chief Executive Officer Steve Burke in particular, participates in the Vinnies CEO Sleepout and the Act For Peace Ration Challenge.
Each year the St Vincent de Paul Society holds a national event, the Vinnies CEO Sleepout, to raise awareness of the growing issue of homelessness. It challenges business and community leaders to sleep rough for one night and raise funds. Steve Burke and his Cattle Dog Rosie, got a small taste of the hardship faced by these people. A huge thank you to Paul Hickman from Let Me Play who joined him and Rosie. In his efforts, Steve has raised $6,600 and you can still donate via the link: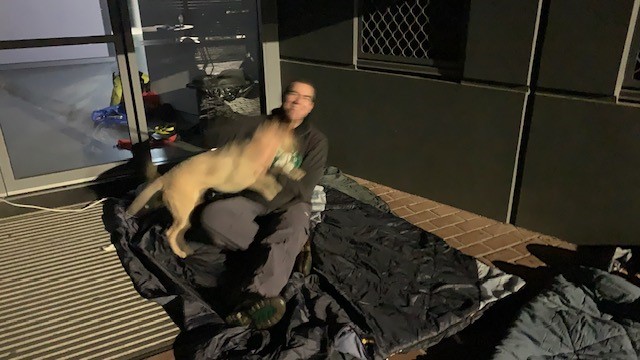 ACT FOR PEACE RATION CHALLENGE
In addition, last week Steve ate like a Syrian refugee, with his diet consisting of just a small amount of rice, flour, lentils, chickpeas, beans, fish and oil. That's it! No coffee, no sugar. This is to help raise money to help bring emergency food, healthcare and life-saving support to the people who need it most. So far, Steve has raised almost $850.
If you'd like to support refugees, please click the button to donate.