NEW WEBSITE & ONLINE SYSTEM
MORE CONTROL | SECURE |RESPONSIVE | SIMPLE
AFTER YEARS IN THE PLANNING, HILLS BASKETBALL ASSOCIATION AND LET ME PLAY NEXGEN ARE EXCITED TO FINALLY LAUNCH OUR NEW WEBSITE AND DASHBOARD. OVER THE NEXT 6 MONTHS, YOU'LL SEE MORE BENEFITS AND ADVANTAGES TO OUR NEW ONLINE PLATFORM. 
WEBSITE NAVIGATION
Hills Basketball Association recently launched a new website and online platform. 
While site navigation has been modified, we've tried to streamline key areas to assist both those looking to start playing Basketball while servicing our growing community.
---
ONLINE PLATFORM
The new online payment platform provides additional security and services for customers. To enable Hills Basketball Association to update the platform and security, the login method has now been introduced for both registration, court fees and team entries.
Every member (player/manager/coach) has a unique username & password. 
At the top of the website you'll see a MEMBERS AREA (printed in orange). This will be your pathway to pay registration, court fees and team entries.
Players will be required to know their username & password to access online payments. While this may seem an inconvenience, it will provide the safest method for customers. 
Additional features will be added over the next 6 months!
If you do not know your username, please phone the stadium on 9894-8944 and we'll be able to assist or email karen@hillshornets.com.au 
Are you ready for our Winter 2020 competition? Team Entries will be released Monday, 9 March 2020 at 7am online.
As part of our new platform and additional security measures, teams managers will now be required to log-in to enter a team!
How do I receive a LOG-IN?
All members are required to have a unique username – players, coaches and managers. If you've never used our login platform, we'll send you your username and you'll need to create a password on your first use. If you don't receive your username by Thursday, 5 March please check your junk mail or alternatively request details from competitions@hillshornets.com.au
Your MEMBERS DASHBOARD provides all your data. History, receipts, invoices and a platform to pay invoices and registrations (if a player) and team entries.
How do I ENTER MY TEAM?
1. When team entries open (Mon 9 March 7am), you'll log-in using the username provided in the MEMBERS AREA. Orange box at the top righthand side of website.
​

2. Once logged in you'll see TEAM NOMINATION on your dashboard (this option only becomes available from 9/3/20). Click on the box to enter your team into the Winter 2020 season.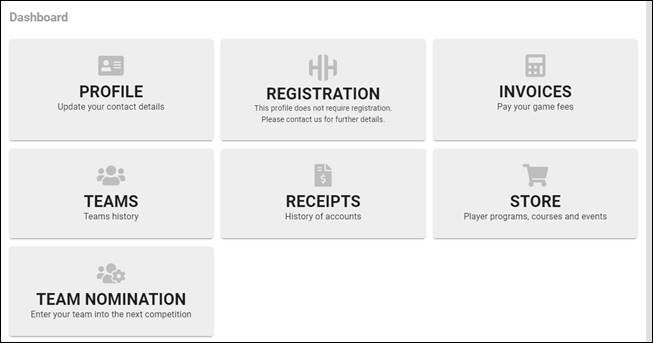 3. The Team Nomination Form has 8 sections.
SECTION 1 | You'll be able to select a PREVIOUS TEAM and automatically copy the roster (don't worry if you need to add or remove a player, this will be managed in section 5).
SECTION 2 | You can rename team by simply typing over existing team name. Then select grade and division.
SECTION 3 | We auto fill your user details as the Team Manager. You can type over details to nominate an alternate manager.
SECTION 4 | Add a Team Coach (optional)
SECTION 5 | At this point you need to confirm your roster. Add or remove players from your previous roster. If you are adding a new player, you'll need to provide first name, surname, date of birth and email address. Please ensure all data is correct as this creates their individual dashboard, links to Active Kids data and much more.
SECTION 6 | This is an area you can provide any additional information regarding your team.
SECTION 7 | An overview of the your Team Nomination and roster. Please check that all information is correct, especially grade and division.
SECTION 8 | Is the online payment window. Please note team nomination fees are not eligible for Active Kids.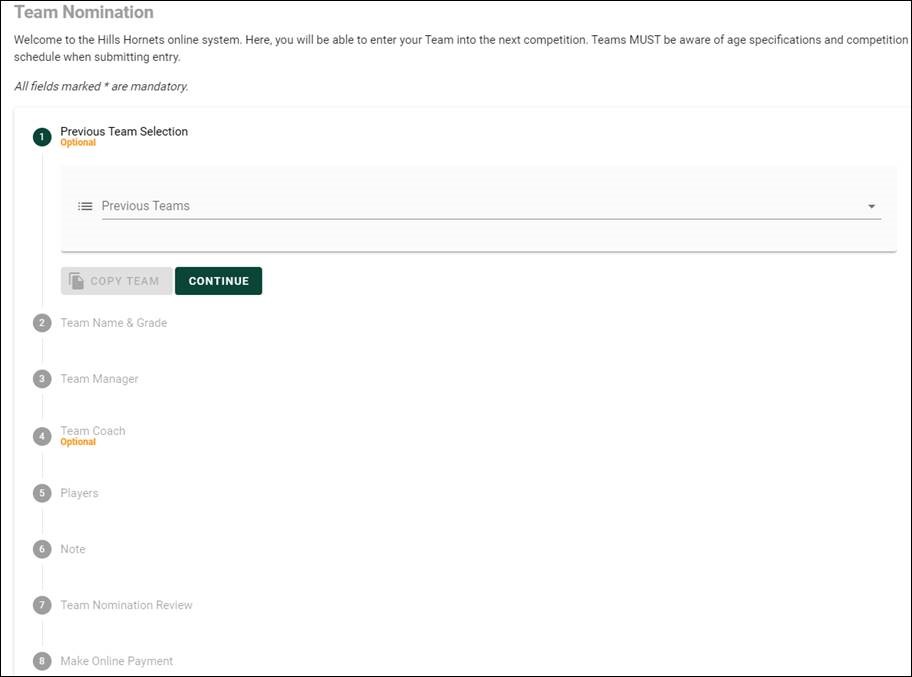 Further information
If you require further information please don't hesitate to contact the stadium on 9894-8944 or email competitions@hillshornets.com.au